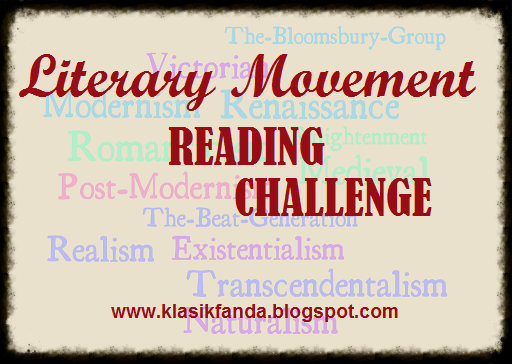 Once again, I'm late to the party but I hope to make up for it within the next few months. This will be an intense year-long event hosted by Fanda over at Fanda Classiclit so a shout out to her for organizing it all. Participants will be required to read works from particular literary movements designated for each month, starting with the middle ages all the way to post-modernism. Yikes. It's like English 101 all over again. I already missed January but I plan to go back and finish it up at some point in time. Here is my tentative list so far:
January: Medieval - The Canterbury Tales by Geoffrey Chaucer
February: Renaissance - Astrophil and Stella by Philip Sydney
March: Enlightenment - Poetic works by Dryden, Pope, Marvell, Katherine Phillips...
April: Romanticism - Various works by the big six: Wordsworth, Coleridge, Shelley, Byron, Keats, Blake. Plus over-looked female writers: Charlotte Smith, Hannah More.
May: Transcendentalism - Walden by Henry David Thoreau
June: Victorian - North and South by Elizabeth Gaskell, Jane Eyre by Charlotte Bronte,
July: Realism -
Huckleberry Finn by Mark Twain
August: Naturalism - The Call of the Wild, White Fang and other stories by Jack London
September: Existentialism - The Stranger by Albert Camus
October: Modernism - Women in Love by D.H. Lawrence; various short stories
November: The Beat Generation - Howl by Alan Ginsberg, Naked Lunch by William Burroughs, On the Road by Jack Kerouac
December: Post-Modernism - Breakfast of Champions by Kurt Vonnegut, Song of Solomon by Toni Morrison, The Man in the High Castle by PKD, Snow Crash by Neal Stephenson, The Crying of Lot 49 by Thomas Pynchon...
Well, I really got my work cut out for me now.