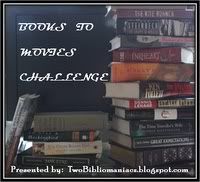 I just could not pass up the opportunity to participate in this exciting book challenge hosted by
Two Bibliomaniacs
despite my previous commitment to other challenges and my propensity to procrastinate. Nevertheless, I like to think of myself killing two birds with one stone (a cruel idiom if I may say so myself) by taking on this particular challenge considering that I have recently read several novels that have been adaptated into films and was eventually going to watch them anyways. Here is my viewing schedule:
Solaris (Soderbergh, 2002)
The Big Sleep (Hawks, 1946)
Pride and Prejudice (2005)
To Kill a Mockingbird (1962)
The Prime of Miss Brodie (Neame, 1969)
The Ninth Configuration (Blatty, 1980)
More to come...