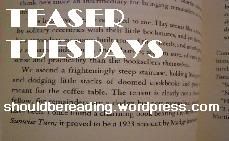 It's that time again! Teaser Tuesdays is a weekly meme held by MizB from Should be Reading.
Anyone can play along!
Grab a book you are reading.
Open to a random page and pull two sentences.
Post the book title, author, and page number.
No spoilers, please.
My teaser: "Better to succumb to the schizophrenic process, join the rest of the world. She raised the window shade; the sunlight, with its familiar reddish, dusty tinge, filled her sight and made it impossible to see" (1). - The Martian-Time Slip by Philip K. Dick
Whenever I am in a reading slump, I can always count on PKD to remedy the situation.